I have loved making sourdough over the last few years and wanted to share the recipe and techniques I use. I don't worry about whether my loaf is perfect because it will not be sold in a bakery but something that my family can enjoy.
When I first started researching sourdough I was a bit intimidated with all the many recipes and techniques and the fear that if I didn't do everything exactly right that my loaf would be a disaster. While I have had a few flat loafs over the years I have found that sourdough is much more forgiving than we may believe.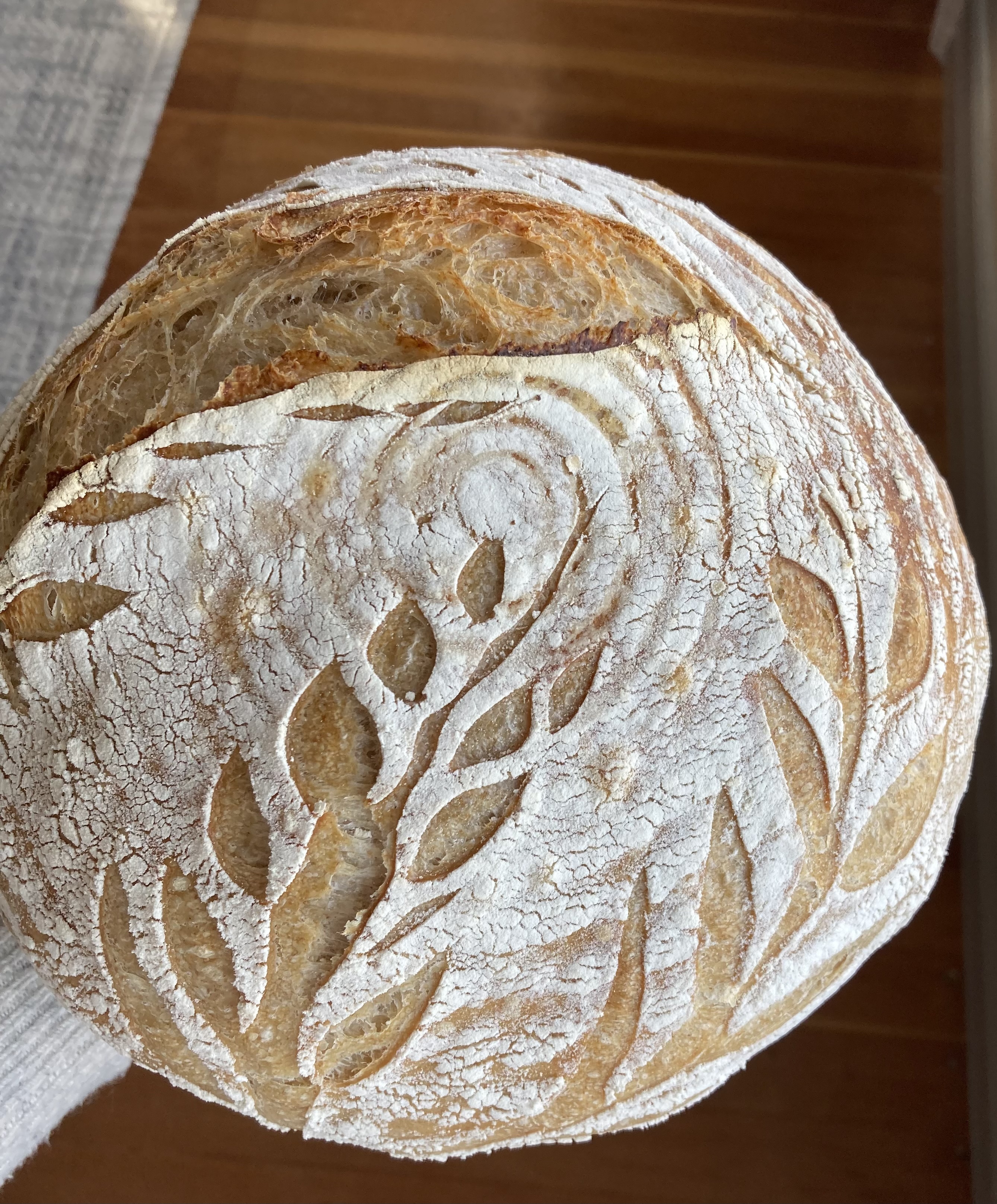 What you will need
Ingredients:
Starter: I made mine by feeding it flour and water everyday for 2 weeks and I have somehow managed to keep it alive for 3 years which is pretty impressive as it was in my fridge for a good 2 months without being fed. Like I said before sourdough is very forgiving
Flour: Bread flour will make a better load but any flour will work
Salt: Any salt will work. I use redmonds salt.
Water: I have read that you must use purified water or it will kill your sourdough. I just use plain old tap water and have never had a problem.
Supplies:
Scale: Any scale that does grams will do.
Large bowl: I have one with a lid that makes it easy to cover and uncover and I don't have to worry about plastic
Baskets: Sourdough baskets help keep your dough in the correct shape as it slowly rises in the refrigerator.
Knife/scoring blade: something to help you score the bread before you bake it
Dutch oven: You bake your bread in a large dutch oven or pot
Not necessary but nice to have items:
Dough Whisk, Dough scraper 
Now that you have what you need you can make your sourdough! 
Making your Bread
Feeding your starter:
I feed my starter 1-2 days before I am going to start making my bread. Otherwise I keep it in the fridge.
Feed by scraping on the first couple ½-1" of starter and discard. Then add 60g Flour and 60g water and stir.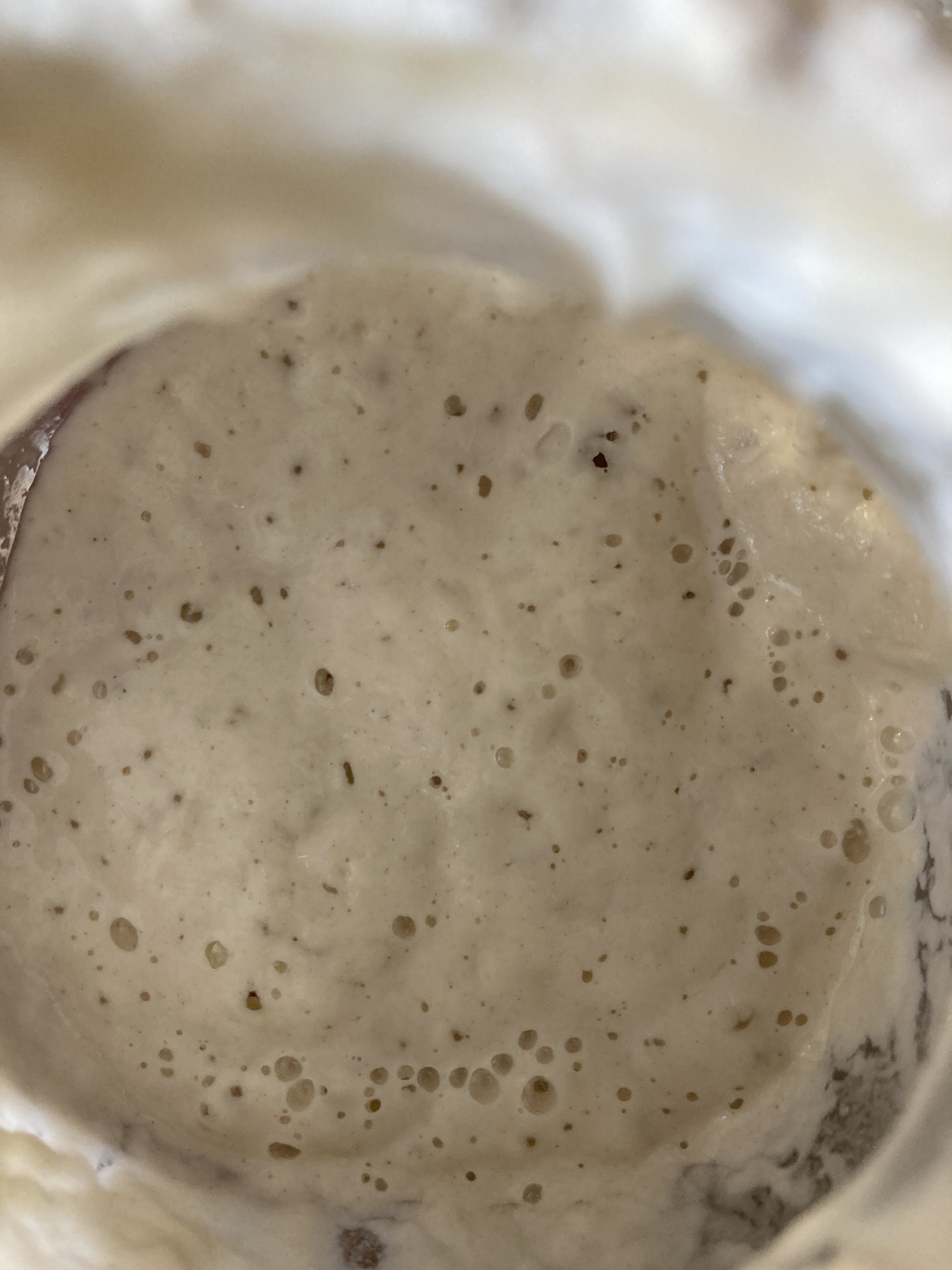 Levain:
Add 125g Warm water to a small bowl
Add 2-3 TBS of starter to water and stir
Add 125g Flour and stir
Allow to sit overnight 
Dough:
In the morning your levain will be nice and bubbly.
Add 800g Warm Water to a large bowl
Add about 225g Leaven to water and mix
Add 1000g Flour (can use a mix of wheat and white-I like 15-20% wheat and to use white bread flour)
Mix dough until the flour is all incorporated and allow to sit for 45 min
Add 20-22g salt to dough
Add 50g water to dough
Now mix with hands until fully mixed
Let sit for 30 min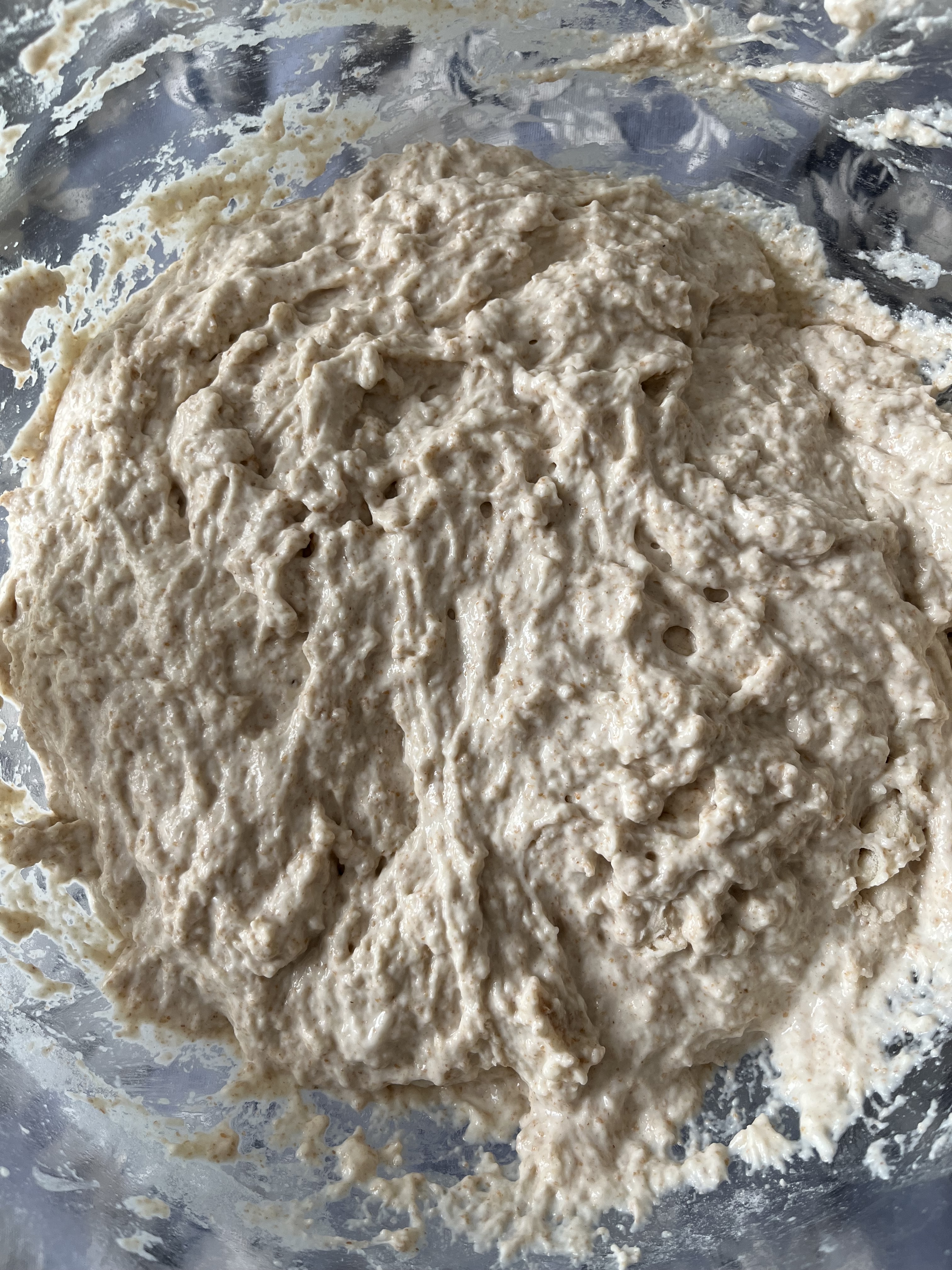 Folding:
Fold dough 4 times into itself so you are taking each quarter of the bowl and folding it over
Let sit for 30 minutes and repeat folding of dough 4-6X for 2-3 Hours until the dough holds its shape for a few seconds after folding. 
Bulk Rise:
When you have finished your folding allow dough to sit covered in a warm place for 2 hours to rise
Shaping:
Tip of dough carefully onto a floured surface and cut the dough into two equal pieces
Gently form into two rounds and allow to sit for 20-30 minutes.
Now shape each loaf by bringing sides of dough into the center and allowing the dough to form a sphere. Use your hand to allow the dough to form a tight sphere and place the dough into the basket. Repeat for the second loaf.
Cover and place the baskets in the refrigerator overnight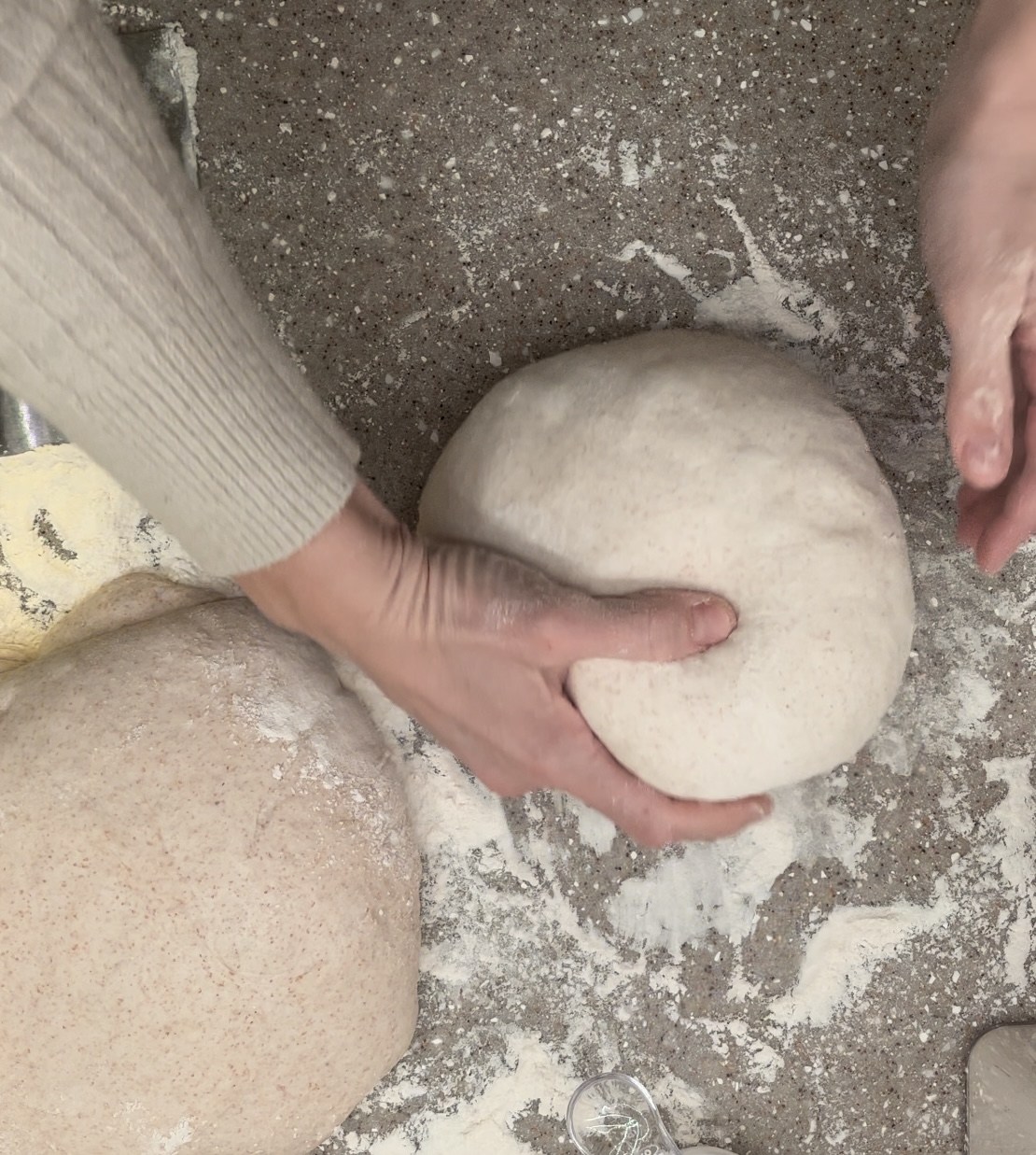 Baking:
Preheat oven to 450 in the morning
(preheat dutch oven empty so it's nice and hot for your bread, some dutch ovens are not recommended to be heated empty so just double check yours)
Turn out dough from basket using parchment and score with blade or knife
Place the dough in your dutch oven and bake with the lid on for 30 minutes. I like to put a cookie sheet under the dutch oven because it helps the bottom not get burnt.
After 30 minutes take the lid off and bake for another 25 minutes.
Take out and allow to cool for 1 hr before slicing.
Repeat with the second loaf that has been in the fridge.
Enjoy!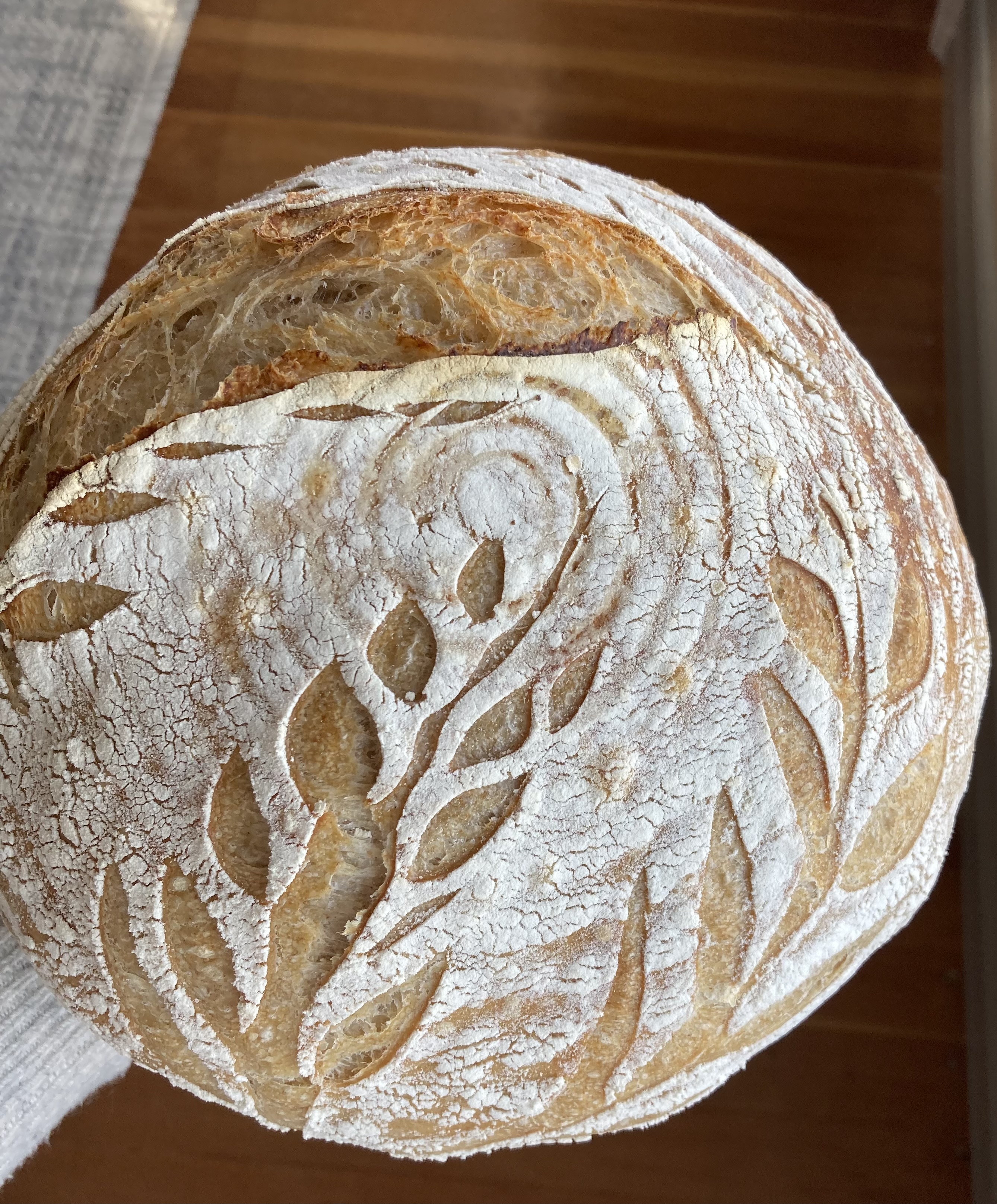 Here are some amazon affiliate links for the supplies I use
I don't have this but you could try this kit!